Our Zultys Z Series VoIP Phone Sets
The Zultys ZIP Smart Media Phones combine productivity enhancing visual communications with the flexibility of the Android operating system, accessed via a touch screen, to deliver an outstanding user experience for business professionals.
Functions and contacts may be accessed quickly via programmable soft keys. Wired and wireless headsets including Electronic Hook Switch (EHS) function are supported via the integrated USB port.
All ZIP phones are compatible with Zultys' ZAC and MXIE Unified Communication applications, allowing users to manage calls and messages directly from their computer. All Zultys phones utilize the Session Initiation Protocol (SIP) open standard and is managed from the Zultys MX Administrator application for rapid deployment and the industry's lowest total cost of ownership.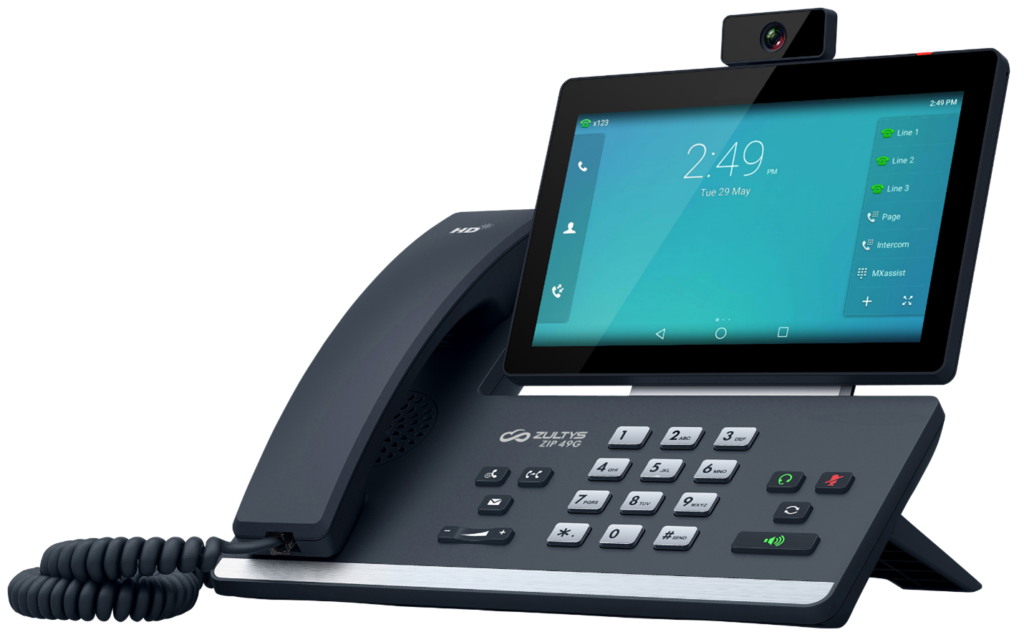 ZIP 49G
7" 1024×600 pixel touch screen
Optional 2-megapixel HD camera
Android Operating System
Built-in Bluetooth and Wi-Fi
Dual Gigabit Ethernet ports
Full call control via ZAC/MXIE
27 programmable LCD labeled keys
Local 3-way video conferencing
Local 5-way voice conferencing
Support for compatible USB headsets
Supports ZIP 450M Color Expansion Modules
Busy Lamp Field (BLF)
Web Browser
MX system & LDAP contact directories
One-touch call record button with look back capabilities
Call park and pick up
Displays caller and called line information
Call Log and Redial
Missed call notification
Paging and Intercom auto-answer
VLAN, DSCP and QOS support
SIP open standard
MXnetwork Redundancy support
802.3af Power-over-Ethernet
Hearing Aid Compatible (HAC) handset
Wall Mountable (optional bracket required)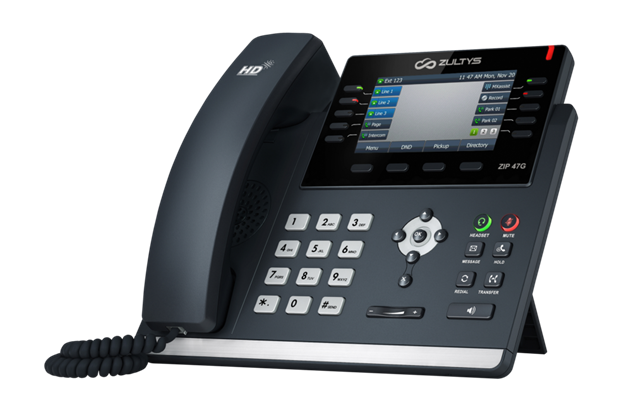 ZIP 47G
480×272 pixel color display
Dual Gigabit Ethernet ports
Full call control via ZAC/MXIE
27 programmable LCD labeled keys
4 context sensitive soft keys
Local 3-way conference
Dedicated headset port with EHS support
Supports ZIP 440M LCD Expansion
Busy Lamp Field (BLF)
Bluetooth and Wi-Fi supported via optional USB adapters
XML Browser
XML and LDAP based contact directories
Call forward/Call waiting
Call park and pick up
Displays caller and called line info
Call Log and Redial
Missed call notification
Paging and Intercom auto-answer
VLAN, DSCP and QOS support
SIP open standard
MXnetwork Redundancy support
802.3af Power-over-Ethernet
Hearing Aid Compatible (HAC) handset
Log into Call Groups from phone
Wall Mountable (optional bracket required)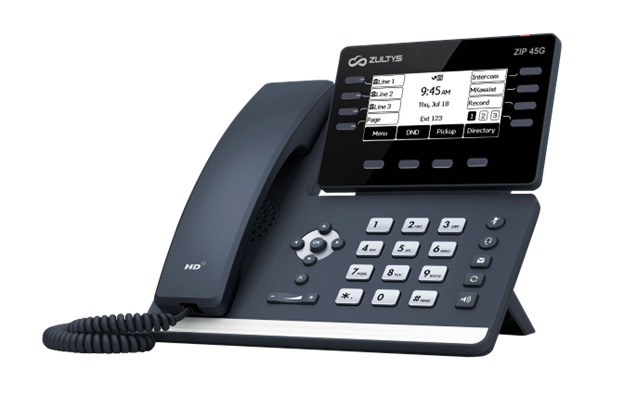 ZIP 45G
3.7″ 360 x 160 pixel backlit LCD
Dual Gigabit Ethernet ports
Full call control via ZAC/MXIE
21 programmable LCD labeled keys
4 context sensitive soft keys
Local 3-way conference
Flexible headset support
Supports ZIP 450M LCD Expansion
Call park and pick up
Displays caller and called line info
Call Log and Redial
Missed call notification
Paging and Intercom auto-answer
VLAN, DSCP and QOS support
SIP open standard
MXnetwork Redundancy support
802.3af Power-over-Ethernet
Hearing Aid Compatible (HAC) handset
Log into Call Groups from phone
Wall Mountable (optional bracket required)